The Cosmic Cauldron. The Ancient Ways Community and the members of OST are Alternative Spiritualists, Wiccans, Witches, Pagans and Heathens brought together in various Forums to discuss topics of interests.
This Site has been designated as these groups OFFICIAL JOURNAL & NEWSLETTER.
The Cosmic Cauldron Journal and Newsletter is not the Official journal and Newsletter for The Ancient Ways Incorporated organisation, however any and all members of said organisation are afforded FREE advertising and listings within this online publication.
If you wish to become a member of TAWI please visit their Site.
The Webmaster of this Site accepts responsibility for this site's contents except the contents of articles contributed where specified.
The Editor is a Proud Member of
Proud Member of
Sponsors
Zines
Our Sponsor Groups
VISIT DONBOVAWITHEGUNMA
For a Laugh
Make my Month - Please Consider Contributing! On the look out for October's Wonderous Witch
The New Look Newsletter
Please SUPPORT our wonderful sponsors who have seen the potential behind our little independent Newsletter and who have joined our little family to ensure its growth. It is still not to late to become a sponsor. (Click on the link below)
Damh the Bard
See Him LIVE At The Druid's Dreaming
Reminiscing - See this Month Editorial
Dragonfly's Haven
Pagan Parenting through the Cyber Age
Dragonfly dwelvrs into Cyber Space and discusses the impact of technology and the Internet on our children.

More Information Here
Diary of A Wiccan Teacher
High Priestess Amethyst of the Oak and Mistletoe Coven sixth journal entry is now available plus some exciting news.
Book Reviews & Bookshop Group
Reviews by Mike Gleason.
Going To Summerland
A September Song
A Beautiful & Moving poem by our resident poet, Lady Bleu.
EDITORIAL
Uncertainty, Chaos and the Atheist Pantheon
My good friend Foxxfeather posted this article through one of her Yahoo forum groups and I was so taken by the contents that I approached her to see if Anton would allow me to republish it here. With KIAwiki approval I have done just that.
The Christ as a Roman Myth
Another interesting article I stumbled across in Foxxfeather's group was this one. I approached the author Dennis "Nazgno" Tackett for permission to republish.
Lord Helel's "Journey" Continues.
Way back in the April issue we brought you an insightful article written by the High Priest of OST about his own Spiritual journey. In his most recent article he enlightens us further.
NEWS ON
Don't Miss Out!
Can't afford the ticket right now? End of financial year is fast approaching ... Part payments can be arranged. Don't miss out on an event unlike any other in Australia. Contact Druid's Dreaming Administration to arrange part payments.
Special Pay As You Go arrangement NOW in place
Contact the Administrator for access to this most Secret page
The Cosmic Cauldron's Featured Artist of the Month
See them LIVE at The Druid's Dreaming
One of Spheres Of Light's projects is to develop a National Pagan Directory to help people connect with other pagans in their local area. If you would like your group listed here please send an email including the group's name, email address and/or contact number, website link if you have one and a one sentence description of your group. Please also include the state and region/suburb your group is in.
http://npd.spheresoflight.com.au/
Web Site Review
Don't you just love being invited to a website by a friend and finding yourself marveling at the well structured and interesting place they have invited you to. What I find even more rewarding is traveling back to their site months later, knowing that it is being re-contructed and taking a peek. All I can say is that High Priestess Amethyst and her brilliant new web-designer have done great magic ... oh ... and by the way, I am jealous and my nose is a little out of joint. Why wasn't I offer the job?
http://www.oakandmistletoe.com.au/
Like to listen and talk about "earth music"? Like to discuss Movies with like-minded people? Come join us at:
Do you LOVE Music? Join Our NEW Radio Forum
Sponsors
The Wayfinder and Editor of The Cosmic Cauldron is proud to be associated with
The Editor and The Cosmic Cauldron are Proud Sponsors and Members of
http://dragonspacefriends.ning.com/
http://www.enchanted-emerald-forest.com
Come aong and hear one of the BEST Guitarist in Australia and also, meet The Wayfinder, who will be present as the Official Video Camera man and will be filming the gig.
CHECK OUT THIS MONTHS WONDEROUS WITCH
~ * ~
Regular Contributors -
Dragonfly Louise
Amethyst
Every Month The Cosmic Cauldron Newsletter will Feature a MYSPACE Profile on this page.
If you have a MYSPACE profile and wish it to be featured here please contact the editor. Mark the subject heading of your email; "Please feature me."
This of course will generate visits to your Myspace profile.
Visit Damh the Bard profile this month and join him friend's list.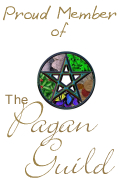 Make my Month - Please Consider Contributing! On the look out for October's Wonderous Witch
Come On, Don't Be Shy
Adelaide Pagan Parenting
Adelaide Pagan Parenting is open for all parents located in the Adelaide, Adelaide Hills and environs and all local suburbs. The three major criteria for being a member of this group is that you be a South Australian resident, be a parent of a child between 0-5 years and be a Pagan or Heathen (no matter the path you follow). Pregnant/ expecting Parents are also Welcome.
Pagan Parents outside of these criteria may also apply for membership.
Our focus is on Parenting our children effectively while respecting our path, the environment, ourselves and, most importantly, our children as unique individuals.
Sponsors
Dragonfly's Page is a Must Read
Gig Guide
Find out Where the performers that are involved with The Druid's Dreaming are performing next
Featuring Damh the Bard & Wendy Rule amd many more great musicians and performers.
The Support for The Druid's Dreaming is growing and I am greatly apprecitive to Jenwych of Axis Mundi (a brilliant on-line zine) for the promotion of the Event in this moonths issue.
Paganism Australia is a voice for the pagan community within Australia which was featured in last months Newsletter.
And especially t he support ABC Net who have allowed
me to promote my video on their contributors page as well as allow me to lst the Event at ABC 891 Online.
What the world needs is Magic, Music and Dreams
A Dreamtime
The concept of the Event is to bring AWARENESS and to PROMOTE Tolerance, Understanding with the hope of Embracing others chosen beliefs to the whole community which is mostly Christian orientated and to celebrated the Cultural & Spiritual Diversity in Australia.
It is also the purpose of this event is to raise AWARENESS and Support for a new organization called The Ancient Ways Incorporated:
MAGIC CAN HAPPEN
Join US!
Embrace The Druid's Dreaming
LETTERS TO THE EDITOR
AIR~BREATH
Air is the element of intellect, independent thinking, movement and freedom.
It is all movement. Air rules Magick involving obtaining knowledge, moving things, freedom, breaking(away from), travel, instruction, finding lost items, discovering truths, developing your psychic abilities, magick of the Four Winds. Air carries our visualized wishes out toward manifestation. Spells that involve the Air element usually include dropping an object off of a high place so it physically connects with the element itself. When one lives in unison with Air they will have many great ideas and find ways to begin new things. Here are some other correspondences to Air.
Air Rules: The mind, clarity, discernment, wisdom, knowledge, abstract thinking, logic, the spoken word, the wind, breath. Intellect and theory. It is creative and is that which causes magickal intentions to become manifest. It is also associated with higher consciousness and wisdom, divination, and purification, mental and psychic work, intuition. clouds, inspiration, hearing, herbal knowledge, plant growth, freedom, revealing truth, finding lost things, instruction, telepathy, memory, learning the secrets of the dead, zen meditation, new beginnings and illuminations.
© The Cosmic Cauldron
2008 - 2009
All Rights Reserved
See YOU next Issue